Tourist Guide
From the airport to the hotel, to tourist spots
You can make your own trip to your favorite places.
No parking fee needed.
You can leave your luggage in the car.
Good for large suitcases too
Suitable for small groups (up to 9 persons)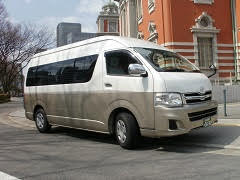 Tourist Model Course: 9,470 yen~
1 hour for visiting popular spots at a reasonable price (no admission) to 6 hours for visiting spots with admission. (Lunch break included)
Please let us know your desired time and price. (Admission fee and food are not included)
1.Osaka station (city hotel) – Midosuji – Dotombori – Tsutenkaku –Abeno Harukasu – Shitennoji – Osaka Castle – Osaka station
About 1 hour (only from the inside of the car)
| | | |
| --- | --- | --- |
| | ©大阪観光局((公財)大阪観光コンベンション協会) | |
2.Osaka station (city hotel) – Osaka Castle – Midosuji – Dotombori –Tsutenkaku – Kaiyukan Aquarium – Osaka station
About 2 hours – 3 hours
| | | |
| --- | --- | --- |
| | ©大阪観光局((公財)大阪観光コンベンション協会) | |
3.Osaka station (city hotel) – Midosuji – Dotombori – Universal Studios Japan
About 3 hours – 6 hours
| | | |
| --- | --- | --- |
| | ©大阪観光局((公財)大阪観光コンベンション協会) | |
Choice Plan
◆Please choose your favorite
plan from below.
| | | | |
| --- | --- | --- | --- |
| Osaka | Approx. Time | Kyoto.Kobe.Nara | Approx. Time |
| 1 place | 3 hours | 1 place | 4 hours |
| 2 place | 4.5 hours | 2 place | 5.5 hours |
| 3 place | 6 hours | 3 place | 7 hours |
| 4 place | 7.5 hours | 4 place | 8 hours |
※Please ask us for an estimate. Time and price may change depending on traffic, season and time.
※Sedan for 4 persons, Mini Buse for 9 persons can be chosen depending on the number of people and luggage
お車1台の料金
2-4 persons
~4 hours
~6 hours
~8 hours
5-9 persons
-4 hours
-6 hours
-8 hours
Other than the fee listed above, there will be an additional admission fee to be paid by yourself.
◆Menu
If you experience any menu from below, it is going to be at your own charge.
 
Osaka
Kyoto
Kobe
Nara
Local Food
(30~60)
Okonomiyaki
Takoyaki
Soba Udon
Seasonal Food
Kyoto Cuisine
Kyoto Sweets
Akashiyaki
Kobe Beef
Chinese Buns
Miwa Somen
Kaki Sushi
Yamato Beef
Observation
Asahi Beer(90)
Meiji Dairies Co. (90)
Santory HD(90)
Mint(60)
Instant Ramen Museum(60)
Konpeito Museum(90)
Santory HD(60)
Otabe(20)
Sake rewery(60)
Macha actory(60)
Hand-made paper(90)
Coca Cola(60)
Nishijinori Hall(60)
Kewpie(75)
Lion(90)
Ezaki Gurico(70)
Kanetetsu(120)
Glass Craft(90)
Assix(90)
UCC Coffee(60)
Sake Brewery(60)
Miwa Somen(90)
Sharp(60)
Asahi Beer(90)
Daiwa House(60)
Sake Brewry(60)
Tourist Spots
(60~90)
USJ
Dotombori
Tsutenkaku
Osaka Castle
Umeda Sky Building
Kaiyukan Aquarium
Abeno Harukasu
Arashiyama
Kurama Hot Spring
Kiyomizu Temple
Fushimi Inari Shrine
Byodoin
Nijo Castle
Kinkakuji Temple
Ohara Sanzenin
Ikuta Shrine
Arima Hot Spring
Tezuka Osamu Museum
Takarazuka Revue
Nankin Town
Meriken Park
Ijinkan
Todaiji Temple
Nara Park
Mt. Yoshino
Horyuji Temple
Mt. Wakakusa
Kashiwara Jingu
Kasuga Shrine
Experience
(60~90)
Food Sample Factory
Hellicopter Cruise
Cessna Cruise
Udon Factory
Strawberry / Tangerine Picking
Chambara
Kimono Wearing (walk)
Making Soba
Shamisen / Japanese small drums
Water Bus
Kimono Wearing
Tea Ceremony
Meditation
Candle dyeing
Japanese sweets making
Japanese hairpin making
Kyoto accessories making
Hand-made Japanese papers
Japanese fan making
Hot Spring
Making Candles
Glass Craft
Bread Factory
Arima Bamboo Craft
Manju Making
Craft Experience
Strawberry / Tangerine Picking
Hot Spring
Kobe Harbor Cruise
Strawberry / Tangerine
Sake Tasting
Roof Tile Making
Hand-making paper
Brush Making
Mediattion
Gathering deers
Miko Lesson
*Reservation needed for observation and experience.
*Required time for each menu is shown in ( )
*We can also arrange a plan for you based on your budget, time and number of people.
●Shopping

cosmetics

Home Electrinics

General merchandise


©大阪観光局((公財)大阪観光コンベンション協会)

●Gourmet
| | | |
| --- | --- | --- |
| Sashimi | Ramen | Soba |
| Tonkatsu | Okonomiyaki | Sushi |
●Sightseeing
| | | |
| --- | --- | --- |
| Sky building | Kinkakuji Temple | Todaiji Temple |
| Nankin Town | Fushimi Inari Shrine | Kaiyukan Aquarium |

●True Japan Tours
| | | |
| --- | --- | --- |
| Kimono | Making Sweets | Fruit Picking |
| Making Soba | Ramen Museum | Chambara |